Can You Trade In a Financed Car?

San Diego drivers can certainly trade in a financed car for a leased vehicle, however, you are still responsible for paying off the balance of your financed vehicle. We have resources that walk you through this entire process from financing to leasing, or you can reach out to our finance center for additional resources and advice. Contact us for more information or if you have any questions regarding lease payments, interest rates, and even trade in prices at Acura of Escondido.
---
---
How Does A Trade In Work?
In the case that the remaining balance of your financed vehicle is less than the value of the new vehicle, we will give you enough money to pay off the rest of your loan. An example of this is if you owe $7,000 on your car, and the dealer offers you $8,000 for it, the loan can be paid off and the car transferred to the dealership buying the car. The remaining $1,000 will be taken off the price of the new vehicle you purchase.
What Does "Rolling Over" A Loan Mean?
Temecula customers considering a trade in may also be interested in rolling over a loan. This is when the remaining balance of your loan is added to the loan of your new vehicle. Here you are essentially paying the dealership back for picking up the difference on your previous loan while simultaneously paying for your new loan.
How Do I Get Started On My Trade-In?
If you're ready to trade in your financed vehicle for a new Acura lease, here's some resources available from our finance team to help you get started: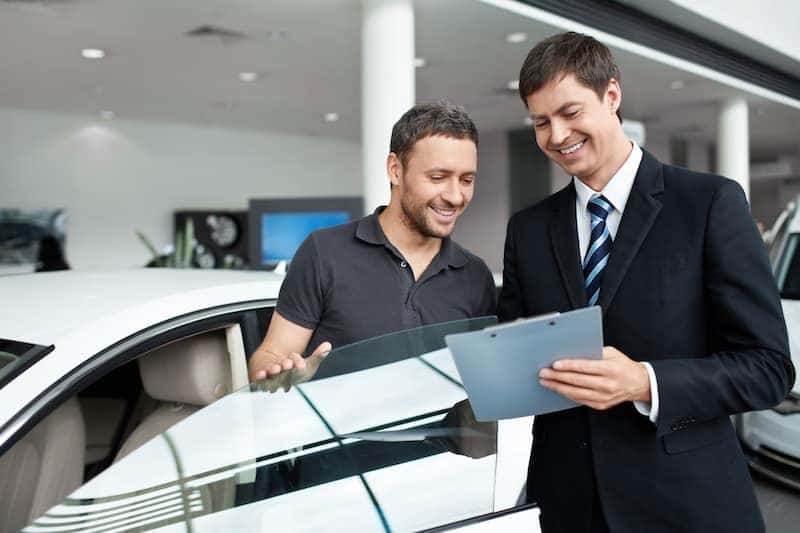 Visit Acura of Escondido Today!
Drivers in the Carlsbad area interested in trading in a financed car for a quality new lease should look no further than Acura of Escondido. Contact us and speak with someone from our experienced finance team who's ready to assist you with your next purchase and help get you behind the wheel of a new Acura!
Are you open to refinancing your current auto loan instead of trading up? What about leasing a car with bad credit? We can help you find the best option. Whether you need help determining interest rates, learning about good mileage on a used car, or understanding gap insurance, we can help.
Learn More at Acura of Escondido
The long-awaited Acura TLX Type S is back, and San Diego understandably have some questions about what this vehicle will look like, especially when it comes to the color options. Explore the Acura TLX color options of the Type S with Acura of Escondido to see how you can customize this vehicle inside and out, and then…

When you think of Acura, the first thing that comes to mind is luxury and performance, elevating your commute around San Diego! However, one of the most impressive features is the Acura MDX towing capacity. The new MDX can haul around 5,000 pounds when properly equipped, especially with the capable AWD system. Learn more about…

The Acura brand is renowned for its luxury features around Escondido and beyond. The 2021 Acura TLX includes several trim packages to make your drives around San Diego more enjoyable. Acura of Escondido brings you this guide to the 2021 Acura TLX Technology Package, which provides access to your favorite mobile apps, includes navigation for Temecula streets and a host of driver-assist systems. Learn more here about the 2021 Acura TLX Technology Package features and then head to Acura of Escondido for a demonstration and to get behind the wheel of a new Acura TLX.